Applying for e-Visas with the Royal Thai Embassy, The Hague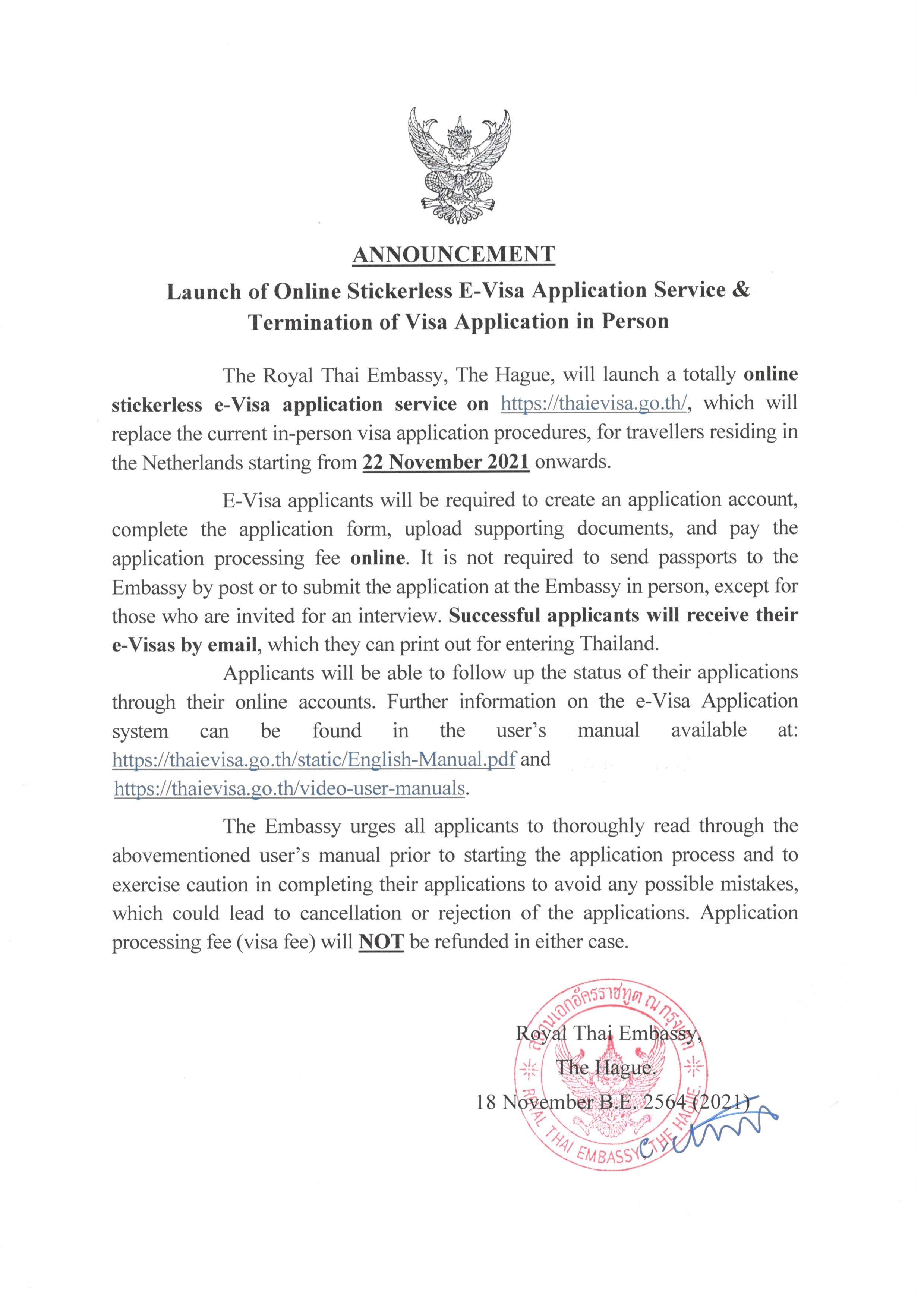 1. During COVID-19 situation, please visit https://hague.thaiembassy.org/th/content/visiting-thailand-from-1-october-2022 for requirements and conditions for entering Thailand.
2. From 22 November 2021, all visa applications must be done through the new e-Visa System at https://thaievisa.go.th which has replaced the in-person visa application service previously provided by the Embassy.
The e-Visa System is totally online from start to receiving visa. (create an account, fill out, upload documents, make payment, and ... once approved ... receive your e-Visa through email - make sure you key in a correct email)
Payment for application processing fee (visa fee) is also made online.
Sending passports or visiting the Embassy is NO longer required unless advised by the Embassy. No visa sticker will be affixed in your passport.
IMPORTANT

All applicants are strongly advised to thoroughly read through the user's manual or watch user's manual video clips prior to starting the application process.
Please exercise caution in completing the applications to avoid any possible mistakes, which could lead to cancellation or rejection of the applications. Application processing fee (visa fee) will NOT be refunded in either case.
The Embassy CANNOT edit or correct your personal details for you.
In the case where applicants fail to submitted required documents or additional documents requested by the Embassy

within 45 days from the date of submission

, the applications will be cancelled without prior notice. Application processing fee (visa fee) will NOT be refunded.
The Embassy only has the authority to provide visa services to those who are in the Netherlands for the entire visa process. Visa applications of those who are not in the Netherlands for the entire process will be REJECTED. No refund is possible.

For conditions and requirements about e-Visa,

please read

Applying e-Visa Video Guidance (in Dutch)

.

Please see